Diego Della Valle and the Art of Wearing Things the "Wrong" Way
See on Scoop.it – Fashion – man – woman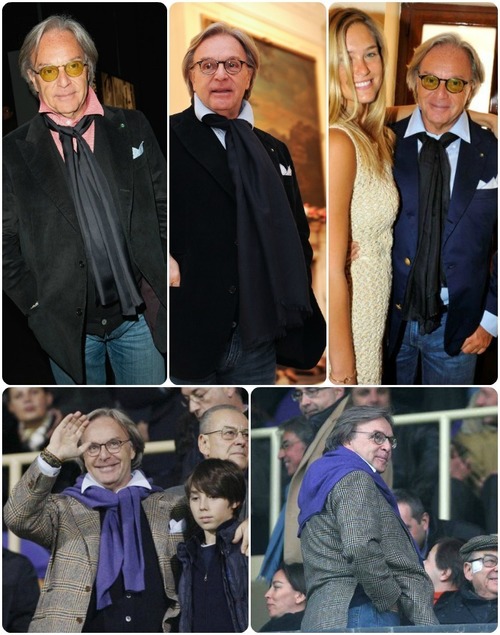 Some guys shop with patience of Job, waiting months and diligently scouring sale sections for just the right deal. On the other hand, there are those guys that regularly pour out a small fortune just to look like they found their clothes in a dumpster. Most of us probably fall somewhere in between, splurging and scrimping from time to time. And then, there's Diego Della Valle, a man that simply dresses like pure opulence. Of course, it helps that Della Valle is the CEO of a little company called Tod's footwear so he pretty much dresses up to his title, but when it comes to Della Valle, as with so many other Italian icons (a pack lead that's lead by Gianni Agnelli who helped elevate Tod's to another level when he wore them back in the day) how you wear it is often far more important than what you wear. In fact, Della Valle's clothes themselves are not particularly remarkable (although he is a great template for proper fit, particularly for bigger guys) mainly focusing on blue shirts, navy or grey jackets, washed denim and of course Tod's.
Aside from how he carries himself underneath this uniform, what I love about Della Valle's style is that he often wears things outside of their intended purpose. What I mean by this is that Della Valle seems to love the unconventional add-on, taking a basic piece and re-imagining it by placing it somewhere else within an outfit. Now I'm not talking about going off the deep end, such the absolutely heinous Eldredge knot which I can't believe I'm even mentioning right now, but Della Valle's "wrong" combinations actually work in my mind. First off is the "scarf-as-a-tie" look, which admittedly only a man of Della Valle's stature (and I mean that socially, economically, and physically) really could pull off, but nonetheless it's something that I can't help but admire. The way Della Valle wears it, with a raised collar and a solid scarf tied loosely to the front in a manner that is brash, but not too ostentatious. It reminds me of an elderly man I saw a few months who had tucked his scarf into his cardigan as if to say "I don't care what you think, it's my damn scarf after all."
As I said, this look clearly isn't for everyone, I certainly probably won't be giving it a shot for at least a few decades, but Della Valle's other atypical inclination is one that you will likely see me wearing this spring, and that's the "sweater-as-a-scarf." Once reserved for eighties preppy elitists (and the painfully confused bloggers that worship them) Della Valle's version takes a neutral colored sweater, probably cashmere considering the number of zeroes in his bank account, and tosses it on top of a suit. It's Della Valle's go-to kit for soccer (or football if you happen to be from the man's homeland) matches, proving that it's an easy way to tone-down the formality of suit as you step outside the office. Of course, we can all throw sweaters over us shoulders and emulate Della Valle, but keep in mind, he has the bravado of a billionaire on his side, so tread lightly out there.
See on wax-wane.com